Byron & Brunswick Heads
Bangalow Market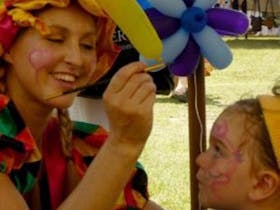 The Bangalow Markets are on the fourth Sunday of every month. It is a gathering of locals, a get-together of artists, artisans, bakers, victuallers, therapists, farmers and friends. You can hear the languages of people from far off lands. Backpackers and celebrities alike make a day of the markets. The Bangalow Market Day is a treat for day trippers, a retreat from the city and the rush of the Gold Coast. Bangalow is a window into another world. Come for the day. Part of the continuing success of the market is the beautiful grounds the markets are held in, which are dominated by eleven huge camphor laurel trees which provide welcome shade and rustling leaves and a magic forest atmosphere.
Start Date:
04/01/2019
View more details
Bangalow Music Festival
The Bangalow Music Festival returns presented by the Southern Cross Soloists. Delighting audiences from around the country with a sublime program of chamber music, the festival features the highest calibre chamber and orchestral musicians from around the world. Nestled in the Northern New South Wales Hinterland, the Bangalow Music Festival is a unique experience unlike any other, complete with inspiring music, food, scenery, relaxation, and camaraderie.
Start Date:
10/08/2018
View more details
Bluesfest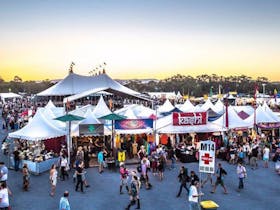 Set in the beautiful hinterland of northern NSW, the Byron Bay Bluesfest is an internationally renowned blues and roots music festival held each year during the Easter long weekend. With more than 200 performances across seven stages over five days, the festival showcases music from around the world, and in previous years has boasted the likes of Bob Dylan, Paul Simon and James Brown on the bill. Since its humble beginnings in 1990, Bluesfest has won numerous tourism and music accolades and now attracts more than 100,000 festival goers over the long weekend. Held on 120 picturesque hectares at Tyagarah Tea Tree Farm, 11 kms from Byron, Bluesfest is a family-friendly event, with children's entertainment and a daily kids' program on offer.
Start Date:
18/04/2019
View more details
Boomerang Festival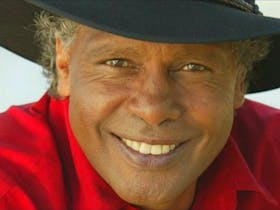 *** Latest event details are yet to be confirmed *** Boomerang Festival - A new world Indigenous festival for all Australians. Boomerang is the first of its kind, never has an Indigenous festival of this holistic calibre been so accessible, featuring an array of music, dance, theatre, comedy, film and visual arts, along with cultural knowledge exchanges, and thought provoking conversations. Boomerang is occurring right on your doorstepat beautiful Byron Bay in subtropical Northern New South Wales. You should need to travel to a remote area of Australia to experience such an amazing event, and even then it would not present near as many of the incredible artists that define the Australian Indigenous experience, as that which is Boomerang. Boomerang will feature the very best this original culture has to offer in the arts, culture and ideas, as well as emerging musicians, artists and dancers, theatre and much more.
Start Date:
30/03/2019
View more details
Byron Bay Community Market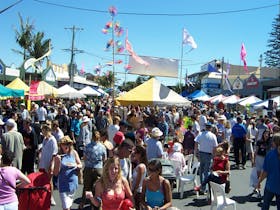 Byron Bay Community Market is held on the first Sunday of each month, with additional markets held on the third Sunday of December and January. Byron Community Markets are a fanfare of colour and music amidst a myriad of exotic flavours and other products. Local art and craftwork fill the market site - beautiful things made by people using unusual and natural materials sit side by side with colourful imports from Africa and Asia. With the diversity of over 300 stalls, there is something for everyone.
Start Date:
04/03/2018
View more details
Byron Bay International Film Festival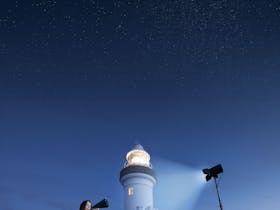 The Byron Bay International Film Festival will celebrate the unique experience this grassroots cinematic event offers by connecting international filmmakers with audiences on a shared journey of inspiration, discovery and screen magic. Byron Bay International Film Festival is now Australia's largest regional film festival, its 10 day program spanning 180+ films from 35+ countries across 60+ sessions and six venues in three regional centres. It screens and awards films of all lengths and genres. Each year hundreds of film industry professionals walk the red carpet, including international screen legends. The festival's events include sell-out gala opening and closing night parties, master classes, panels, workshops and school screenings. Virtual Reality and new visual mediums are explored at this event - both for the public and for Industry Professionals. Byron Bay International Film Festival screens across four venues in Byron Bay and the nearby centres of Brunswick Heads and Murwillumbah.
Start Date:
12/10/2018
View more details
Byron Spirit Festival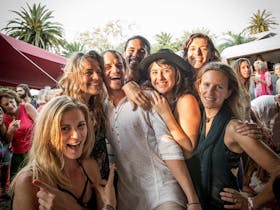 *** Latest event details are yet to be confirmed *** For over six years the Byron Spirit Festival has been the destination for people wanting more from life, attracting people with a profound desire to explore themselves and to connect with like-minded people. This is a Festival that embodies the Spirit of Byron and this is what a few people have to share about their experience. The Byron Spirit Festival celebrates the unique character of the Byron Bay Shire, featuring workshops and panels on yoga, music, culture, dance, healing and world music. Participants attend their choice of workshops during the day and then gather together for evening concerts featuring world music from local, national and international performers and dancers. The festival's new Byron Bay home will see the program running between Byron's premiere new events complex Cavanbah Centre and the luxurious surrounds of Elements Of Byron. With over 50 workshops and panels on yoga, music, dance, healing, creative arts, sustainability and various cultural ceremonies held over three days. Byron Spirit Festival is an opportunity to check out of your every day, and choose your own spiritual adventure in the idyllic surrounds of Northern NSW.
Start Date:
19/04/2019
View more details
Byron Writers Festival
Byron Writers Festival is the central hub to the Northern Rivers' active, vibrant literary culture of reading and writing. Their primary purpose is to create and deliver programs that involve and enrich professional, amateur and aspiring writers (and readers) of all ages. Their mission is to promote literature (particularly Australian), enhance the skills of writers, and foster a culture of reading and writing among all age groups in the Northern Rivers and beyond. The Byron Writers Festival had its beginnings in 1997, when a small group of locals led by Chris Hanley wondered whether authors might accept an invitation to spend a winter weekend in Byron Bay. They did, and an audience of two hundred locals enjoyed a gathering of 50 Australian writers. Since then, the Festival has grown from a single venue event to fill five huge marquees and venues around town. This major annual literary event, the largest regional Writers Festival, offers a seven-day program attracting more than 65,000 individual attendances and reaching more than 4000 school students.
Start Date:
03/08/2018
View more details
Cape Byron Lighthouse Friends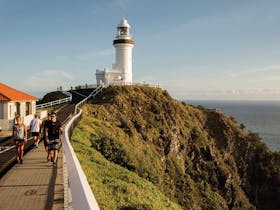 Looking for volunteer work with a view? If you've got a minimum of 3 hours a week to spare, come and be part of a friendly team at Cape Byron. Lead guided tours of the museum and lighthouse, sharing the area's fascinating maritime history with visitors. Voluteering at Cape Byron is packed with rewards. Join the friendly crew at ... Visit website for more info Cost: Free
Start Date:
12/07/2017
View more details
Mindfulness Escapes Byron Bay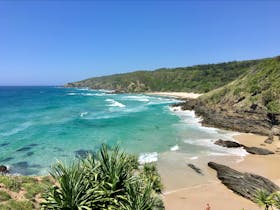 Half a day meditation and mindfulness workshop in nature. You will learn different meditation techniques to quiet the mind and become more in control of your thoughts. The workshop includes sitting meditations and walking meditations. They teach various mindfulness techniques that are easily applied back into your days for a healthier, happier and stressless life. They practice outdoors for an enjoyable experience and to discover beautiful Byron Bay. The workshop is catered for any level, beginner to experienced. Please visit the website for more information and booking.
Start Date:
28/01/2018
View more details
Old and Gold Festival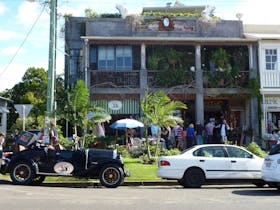 Brunswick Heads will once again host the award winning Old and Gold Festival. With four fairs and more than 80 garage sales around town, if you're on the lookout for a great bargain, this event is not to be missed! Celebrating all things collectable, antique or second hand the festival also features a Marbles Championship, face painting, music and entertainment, barbecues, cake stalls and book sales. Book accommodation for the weekend to get an early start and relax on the river or beach afterwards. Or come along on the day and pick up a boot load of bargains, enjoy the atmosphere, and see what Brunswick Heads has to offer.
Start Date:
09/06/2018
View more details
Sample Food Festival
Sample Food Festival is a northern New South Wales festival that celebrates the creativity and wellbeing of the local food. Bright tropical flavours and bold creative flair attract over 17,000 visitors annually. Sample Food Festival is held in the village of Bangalow and is supported by 200 stall holders who include local restaurant owners, farmers, and local food producers. Sample Food Festival also includes a services of dinners and special events running over four days and three nights. More information can be found on the web site.
Start Date:
01/09/2018
View more details
Yoga and Meditation Retreat Byron Bay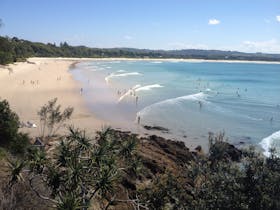 Awaken Meditation Retreats offer quality yoga retreats in northern NSW, near Byron Bay Australia. They specialise in private meditation and yoga classes, mindfulness workshops and health retreats in Byron Bay. From one hour private sessions, to half-day mindfulness excursions or week retreats, they mainly focus on well being, inner peace and nature. The week-long retreats combine yoga, healthy vegetarian food, and meditation practice with outdoor excursions to the 'must see' places of the Byron Shire to make the most of the incredible beauty of the region with its stunning beaches and rainforests. All meals and accommodation are included to provide a unique life changing experience. For more information please visit the website.
Start Date:
17/09/2016
View more details