Lake Macquarie
Lake Macquarie City Farmers Market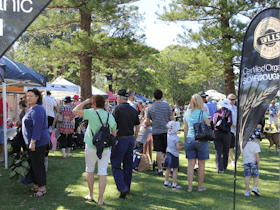 Experience the passion at the Lake Macquarie City Farmers Market. On the second and fourth Saturday of every month you'll find the Speers Point Park promenade flanked by a vast range of farm fresh produce, gourmet foods and gifts. From goat and sheep cheeses to in season fruit and vegetables, sourdough, honey, eggs, oils, wines, oil, meats, poultry and seafood. It's not just about buying farm-fresh groceries, there's an array of breakfast, brunch and lunch options including Modern Australian, Turkish, Tibetan, Chinese and Spanish dishes to try, along with plenty of coffee. The market is on rain, hail or shine, so head to Speers Point Park and talk to the person who grew, nurtured and harvested your food. NSW Farmers Markets have been running farmers markets for 20 years and bring a wealth of experience and a passion for what they do direct to you. From 'Paddock to Plate', 'Farm to Fork', farm fresh and hand made is best.
Start Date:
27/01/2018
View more details
Caves Beach Ocean Swim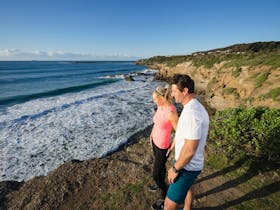 The inaugural Caves Beach Ocean Swim was conducted on March 18, 2004 and every year since swimmers assemble at Caves Beach Surf Lifesaving Club for pre-race registration and instruction prior to the swim start. The area provides a lovely secluded beach for the swimmers and a great starting point for the race. Unique from most other swims, the race can be viewed in its entirety from the elevated headland, placing you, the spectator, close to all the action in the water.
Start Date:
29/04/2018
View more details
Hunter Memory Walk and Jog 2018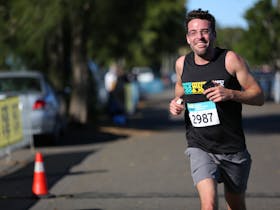 Dementia Australia is excited to return to Speers Point Park for Memory Walk and Jog on Sunday May 20, 2018. The first 500 people to register will receive a free Memory Walk and Jog event T-shirt! Register for the two kilometre walk, 7.5 kilometre walk and 7.5 kilometre run and help them help those impacted by dementia by joining them for the race against dementia. Dementia is the condition that will have the greatest social and economic impact on our time. In New South Wales there are an estimated 138700 people living with dementia, their services have never been in higher demand. All funds raised increase Dementia Australia's ability to provide vital support services, such as counselling, support groups, education to help family carers and professional training across New South Wales. These services reduce feelings of isolation and empower people living with dementia and those caring for them. With your help, they can make sure that their support is always available to those who need it.
Start Date:
20/05/2018
View more details
Confessions of a Serial Killer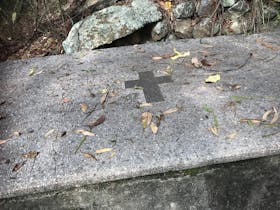 Interactive Crime Theatre has arrived. Play witness to the performance and be part of actor led interaction. Ever wanted to clash wits with a serial killer? Can you survive this dark and twisted game of cat and mouse? Choose wisely and live.
Start Date:
03/06/2018
View more details
Diamonds in the Dirt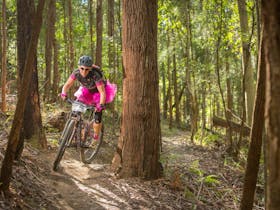 Rocky Trail's womens only event at Awaba MTB Park in Cooranbong! This will be a two to three hour event for any woman who rides and already races a mountain bike, from first-time racer to podium chaser. Expect a friendly and encouraging event environment, where it doesn't matter if you're young or old, have kids or not, prefer lycra or baggy shorts, whether you're into pink or not at all. Whether you've just started riding or never participated in a mountain bike event before. This is for you also, if you love racing - come and share your passion for riding and pass on that racing bug. The guys are welcome too, as long as they come along to support the girls and look after the kids! Check out the event website for the race packages!
Start Date:
25/08/2018
View more details
Newcastle Permanent - Lake Macquarie Running Festival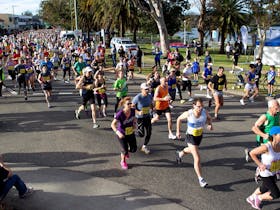 *** Latest event details are yet to be confirmed *** The Lake Macquarie Running Festival includes a Half Marathon (21.1 kilometres), 10.5 kilometres Fun Run and four kilometre Kids Scamper. This event is a first class (Athletics Australia accredited) event. Events will attract over 3000 competitors to the region. The course is arguably one of the best in Australia. There are very few events run with a total waterfront aspect and boasting total road closure. With all aspects taken into account this could easily become the most desirable running event in Australia. The Half Marathon competitors will complete two loops between Warners Bay and Speers Point. The Fun Run will complete one loop. It is waterfront for the complete distance and boasts spectacular views across magnificent Lake Macquarie. The surface is extremely good and the terrain is basically flat with some minor undulations. This is an exceptional runner's course.
Start Date:
26/08/2018
View more details
Greater Toronto Spring Fair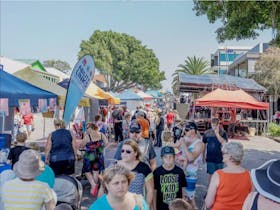 *** Latest event details are yet to be confirmed *** The Greater Toronto Spring Fair will have things such as entertainment, stalls, activities, and displays from local businesses. Three stages will present a great range of entertainment. Showtime will house local performers or groups along with some special guests. Fashion Parades, Fun for Kids stage will be keeping younger folk entertained with a great variety of performances. Town Criers will keep you informed of What's On during the day. From the artisans in the art and craft area to the homewares on sale in Homemaker Central, you are sure to find something to please. All the local cafes and restaurants will be open along a selection of fair food and treat stalls. Come along to enjoy the fun of the fair.
Start Date:
21/10/2018
View more details
Toronto does New Year's Eve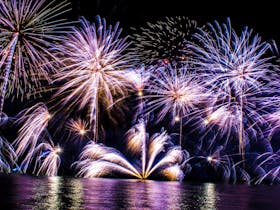 Toronto does New Year' Eve will be a welcome addition to New Year's Eve celebrations on Lake Macquarie. There will be a party atmosphere on Toronto Foreshore provided by a popular DJ playing hits from the 50's right up to today's chartbusters, a photo booth will provide a way to remember the evening with souvenir photos with your friends. At 9pm there will be a Fireworks Spectacular to entertain both the foreshore guests and those in the Royal Motor Yacht Club, the Historic Toronto Hotel and the restaurant strip along the foreshore. See Toronto come alive with holiday lights and music, what better way to welcome in the New Year.
Start Date:
31/12/2018
View more details
Lake Mac Festival
A family friendly celebration on Australia Day with live music, kids' activities, a movie on the big screen and a spectacular fireworks finale! Get in early to catch the family movie on the big screen, free kids' activities, and the annual Scouts canoe race. A spectacular fireworks finale will cap off the night at 9pm.
Start Date:
26/01/2019
View more details
Lakefest
Lakefest is a celebration of Lake Macquarie's aquatic lifestyle and rich maritime history. The Heaven Can Wait regatta involves sailing yachts, dinghies and skiffs racing around Lake Macquarie for up to 24 hours and raises money for Cancer Council NSW. Lakefest will include sailing events and water-based sporting and social activities including a Twilight Race, Paddlefest, and Junior Pirate Fun Race.
Start Date:
15/02/2019
View more details
NSW Surf Life Saving Championships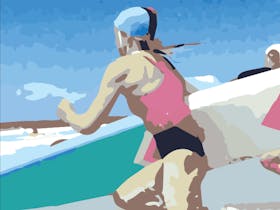 *** Latest event details are yet to be confirmed *** The NSW Surf Life Saving Championships will be hosted by Swansea Belmont Surf Life Saving Club. The State's premier surf event attracts tens of thousands of people to the Hunter region, with more than 7,000 competitors from all over NSW, along with 600 volunteer officials and up to 15,000 family members and spectators. Events will be held through late February and early March.
Start Date:
23/02/2019
View more details