Lake Macquarie
Newcastle Permanent - Lake Macquarie Running Festival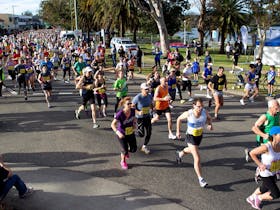 The Lake Macquarie Running Festival includes a Half Marathon (21.1 kilometres), 10.5 kilometres Fun Run and four kilometre Kids Scamper. This event is a first class (Athletics Australia accredited) event. Events will attract over 3000 competitors to the region. The course is arguably one of the best in Australia. There are very few events run with a total waterfront aspect and boasting total road closure. With all aspects taken into account this could easily become the most desirable running event in Australia. The Half Marathon competitors will complete two loops between Warners Bay and Speers Point. The Fun Run will complete one loop. It is waterfront for the complete distance and boasts spectacular views across magnificent Lake Macquarie. The surface is extremely good and the terrain is basically flat with some minor undulations. This is an exceptional runner's course.
Start Date:
25/08/2019
View more details
Toronto Monthly Markets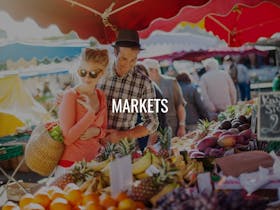 The Toronto Monthly Markets on the first Thursday of each month however if it rains then it will be held on the third Thursday. With a Buy Smart, Shop Local message you will see a great variety of vendors and products. Whether you are a local or are visiting Toronto for the first time, come visit the markets, enjoy the beautiful location, have a delicious lunch at one of the local cafes, or food stalls and enjoy the atmosphere and colour. The market runs from 9am to 3pm and is held within Toronto Town Square and the south side of The Boulevarde and outside the Alec Rice Centre. For further information email or phone them.
Start Date:
05/09/2019
View more details
Blast from the Past Festival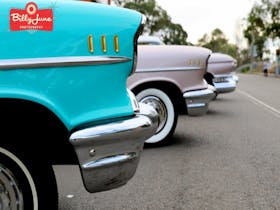 The Blast from the Past festival moves to Rathmines Park. Entry to the public is free and there is plenty of car parking available. One of the highlights of the event will be a Show and Shine within the Rathmines Foreshore Park. All motor car clubs, owners of pre-1978 vehicles and vintage caravans are invited to attend for just a AUD5 per car donation at the park gate. Rock and Roll dance clubs and the public are invited to utilise the dance floor, located towards the boat ramp where you will be able to dance to live music from the Jumpin Jukebox Rock and Roll Band to keep things hopping. Everyone is encouraged to show off their best vintage or retro 1950's and 1960's look in the Pinup Competition at noon. This year there will be a number of categories including Best Retro look, Best Vintage look, Best Mature look, Best Junior look and Best Couple or Family look . More information about the day can be found at the website.
Start Date:
08/09/2019
View more details
Living Smart Festival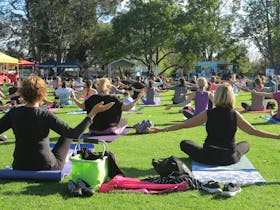 Living Smart Festival is one of the largest environmentally focused community events in Australia, raising awareness of environmental issues, fostering a love of the outdoors and inspiring people to live more sustainably. They're celebrating their 10th anniversary in 2019 with an even bigger and better festival, featuring a weekend of workshops, cooking demonstrations, eco-living displays and more! For the first time ever, the festival will be spread across three exciting days, feature a family-friendly Sunday program of live music, entertainment and other activities. Living Smart's ongoing success was recognised at the 2018 Australian Event Awards, with the 2017 instalment named Australia's Best Community Event of the past 12 months.
Start Date:
27/09/2019
View more details
Lake Macquarie Superboats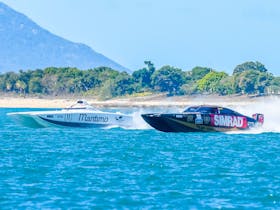 Catch all the action of the Superboats as the Round Four of the Offshore Superboats Championships hits Lake Macquarie, the southernmost race location on the circuit. Line up along the foreshore to watch high-octane vessels race at speeds of up to 200 kilometres per hour. The best viewing spots will be Warners Bay foreshore to Eleebana and Marmong Point foreshore reserve. Lake Macquarie will come alive the whole action-packed weekend, with the Superboats, jet ski racing, come-and-try water sports, the Lake Mac Food and Wine Festival, pop-up bar and markets at Warners Bay and more!
Start Date:
19/10/2019
View more details
NSW DPI Gone Fishing Day- Pelican, Lake Macquarie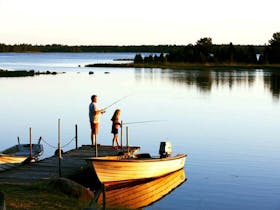 NSW Gone Fishing and Boating Day is on again! DPI, Lake Macquarie Marine Rescue and Maritime will be running a host of events to celebrate their love of fishing and boating, and encouraging everyone to get out on the water. Free how to fish sessions, casting comp, free goodie bags with bonus fishing lures, fishing tip classes by local experts, boating safety and displays, boat rides, sail past, touch tank and loads of free kids activities on the day! Snappy, their crab mascot, will also be making an appearance and handing out lots of cool prizes. Gone Fishing Day locations around NSW include; Botany Bay, Dolls Point, Peter Depena Reserve. Lake Macquarie, Pelican Foreshore. Ballina, Pop Denison Park. Huskisson, Voyager Park. Moree, Jellicoe Park. Mulwala, Apex Park. What to bring? Just yourself, family and friends. No need to register for the event. No fishing licence will be required on the day. Fishing and casting sessions are run throughout the day. Gone Fishing Day is supported by the Recreational Fishing Trusts and NSW DPI. This day is in conjunction with boating safety and education day by Lake Macquarie Marine Rescue and Maritime.
Start Date:
20/10/2019
View more details
Shimano MTB Grand Prix Championships - Awaba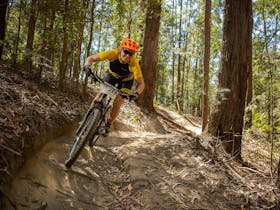 Be a #rockytrailracer at the Shimano MTB Grand Prix and join fellow mountain bikers for a 'seriously fun' racing experience! This one of the longest-standing cross-country racing series in Australia and offers classic cross-country lap racing at its best - race solo or in teams for four or seven hours! The organisers from Rocky Trail Entertainment deliver a set of events that is less of an elite- and winners-only-focused competition, but a positive and inclusive experience for all participants - on awesome trails at fun and exciting destinations ideal for groups of riding mates and perfect for bringing along the whole family! Every race is a stand-alone event and offers points for a series ranking. Race on Saturday, explore on Sunday! For the first time in the Shimano MTB Grand Prix history the series will conclude its racing season with a Championship event and the Awaba MTB Park has been selected as the inaugural venue - singletrack fun and exciting racing action guaranteed! There are great trails to explore also for the little shredders with kids and junior trails at Awaba MTB Park - bring the whole family for the perfect riding and racing weekend getaway!
Start Date:
26/10/2019
View more details
Lake Mac Festival
A family friendly celebration on Australia Day with live music, kids' activities, a movie on the big screen and a spectacular fireworks finale! Get in early to catch the family movie on the big screen, free kids' activities, and the annual Scouts canoe race. A spectacular fireworks finale will cap off the night at 9pm.
Start Date:
26/01/2020
View more details
Lakefest
Lakefest is a celebration of Lake Macquarie's aquatic lifestyle and rich maritime history. The Heaven Can Wait regatta involves sailing yachts, dinghies and skiffs racing around Lake Macquarie for up to 24 hours and raises money for Cancer Council NSW. Lakefest will include sailing events and water-based sporting and social activities including a Twilight Race, Paddlefest, and Junior Pirate Fun Race.
Start Date:
16/02/2020
View more details
Boat Bits Bonanza
As part of Lakefest on Lake Macquarie come along and buy or sell marine themed items at the Boat Bits Bonanza. Take part in the Car Boot Sale style event, just a AUD10 donation at the gate. You can sell anything with a marine theme such as boat bits, boats, kayaks, sailboards, surfboards, wet suits, anything to do with enjoying the water. If you are in the market for anything to do with the water, come along and check it out. There will also be some marine themed vendors and food vendors to complete the offering. Bring the kids along, kid's amusements such as jumping castle, clowns, sand painting and fun treats like fairy floss, ice cream and slushies. Head over to the website or call Brenda for more information.
Start Date:
23/02/2020
View more details
Fox Superflow sealed by Stan's - Round Three Awaba
***Latest event details are yet to be confirmed*** The Fox Superflow is the series that has been taking the Rocky Trail gravity community by storm - ideal for those who are keen to take on an endurance challenge of a different kind! At these events riders of all ages and many different XC or gravity backgrounds race on 'super-flowy' singletrails for fun or are hunting down those seconds for the win. How it works - within a set timing window you complete a set of timed race stages, which are predominantly downhill - the faster you go, the more challenging it gets! No big jumps or drop-offs though and you ride to the starts un-timed - at your pace! Each race is a stand alone event plus collect points for the series ranking! Awaba guarantees singletrack fun and exciting racing action! There are great trails to explore also for the little shredders with kids and junior trails at Awaba MTB Park - bring the whole family for the perfect MTB weekend getaway!
Start Date:
30/06/2020
View more details
Diamonds in the Dirt Women's Only MTB Event
***Latest event details are yet to be confirmed*** This is a women's only mountain bike event that let's the female mountain bikers sparkle! Its home is at Awaba MTB Park where amazing trails and big smiles are guaranteed! This will be a two to three hour event for any woman who rides and already races a mountain bike, from first-time racer to podium chaser. The guys are welcome too, as long as they come along to support the girls and look after the kids! Expect a friendly and encouraging event environment, where it doesn't matter if you're young or old, have kids or not, prefer lycra or baggy shorts, whether you're into pink or not at all. Whether you've just started riding or never participated in a mountain bike event before. This is for you also, if you love racing - come and share your passion for riding and pass on that racing bug.
Start Date:
04/07/2020
View more details
NSW Junior Golf Championships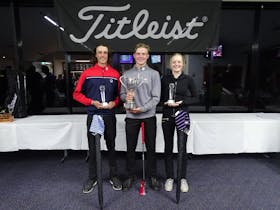 ***Latest event details are yet to be confirmed *** 240 of the best Junior golfers from NSW and Australia converge on the Newcastle area where they will compete in the NSW Junior Golf Championships. Former champions include 2014 Shell Houston Open and 2015 Australian Open Champion Matthew Jones, 2011 Mid West Classic Winner James Nitties and 2012 New Zealand Open Champion Jake Higginbottom. The 2018 tournament will be held at Charlestown and Belmont Golf Clubs from Tuesday 10 July to Friday 13 July. For any information for participants or spectators please visit the Jack Newton Junior Golf website.
Start Date:
10/07/2020
View more details
Rathmines Catalina Festival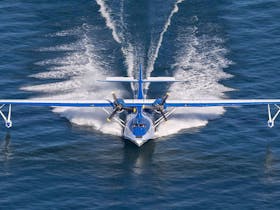 May 2020 will see the Rathmines Catalina Memorial Park Association Inc. host the annual Catalina Festival at Rathmines, Lake Macquarie. The festival will be one of largest yet with a large air display, a wide range of land based activities for families to see, touch and experience, sea planes, gliders and a lot of history. At the former RAAF seaplane base at Rathmines, once the largest flying boat base in the South Pacific, a tightly packed and spectacular air show will have visitors in awe of breathtaking stunts and flying manoeuvres.
Start Date:
30/05/2021
View more details