Manning Valley
Bonnie Wingham Scottish Festival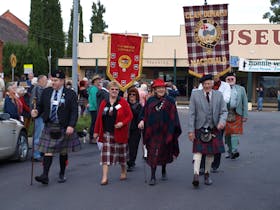 The Manning Valley Historical Society presents the annual Bonnie Wingham Scottish Festival, held the last week of May. Clans from all over the country descend on the town of Wingham (N.S.W) to enjoy the Festival. Sunday - Scottish Concert. Thursday - Genealogy Fair and Workshop. Friday - Heritage Breakfast, Heritage Bus Tour, Golf Match (Clash of the Clans), Clan Gathering and Ceildh. Saturday - Highland Fair and Games. Pipe bands including a Quintet Competition. Markets and Clan stalls. Grand Scottish Ball. Sunday - Riverside Thanksgiving Service and Blessing of the Banners. Barbecue Breakfast and Farewell. A Mayoral reception and official opening ceremony also take place during the weekend. Some events require you to purchase a ticket - order your tickets online on the Bonnie Wingham website.
Start Date:
24/05/2020
View more details
Easter Powerboat Spectacular
Every year, the town of Taree on the Manning River plays host to the Easter Powerboat Spectacular. The event attracts both local and international drivers with some of the best racing on offer, right on the banks of the picturesque Manning River. Starting on Good Friday the event runs until Easter Monday, with great viewing along the foreshore of Taree from Fotheringham Park to Endeavour Place.
Start Date:
19/04/2020
View more details
Friday Night Live at the River Stage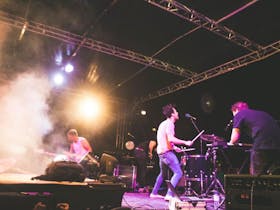 The Taree on Manning Rotary Club is proud to support Friday Night Live on the River Stage in the heart of Taree. Each Friday night during the months of November and February, the town of Taree in Destination Barrington Coast will come alive to the sounds of local and touring artists. Covering a wide range of musical tastes, the River Stage will play host to a music theme which will include, Jazz, Bluegrass, Hip Hop, Rock, Folk and Big Bands styles, basically something for everyone. The River Bank will come alive with not just the sounds, but also with lights, market stalls and food stalls all selling locally made or sourced produce/products.
Start Date:
01/11/2019
View more details
Hannam Vale Open Gardens Day
Open from 10am till 4pm there is a great selection of private country gardens for you to peruse at your leisure. Nestled in the Stewarts River valley in the heart of the Three Brother region, Hannam Vale offers you a delightful day from cottage gardens to woodland gardens. A specialty cafe, barbecue lunch, tasty sandwiches and lots more will be available at the Reserve along with market stalls selling a great variety of quality goods.
Start Date:
21/10/2018
View more details
Harrison Craig sings Elton John Love Songs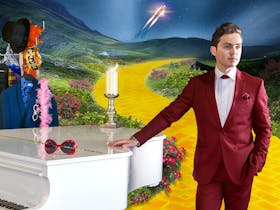 Australia's Prince of crooning and love ballads, Harrison Craig, returns in 2019 to embark on a national tour honouring the emotional, intimate and soulful love songs of the great, Sir Elton John. This show will be a delicately curated set of Elton John's love ballads the likes of "Can You Feel The Love Tonight", "Candle In The Wind", "Sacrifice" and more, all performed with Harrison Craig's trademark rich vocal tones and accompanied by piano.
Start Date:
23/11/2019
View more details
Long Lunch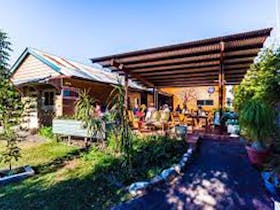 On the first Thursday of each month they head off to a venue for a lazy day of lunching and a couple of beverages if you desire. Not too far away, as it is all about the food.
Start Date:
04/07/2019
View more details
Old Bar Beach Festival
The Old Bar Beach Festival is an annual community event that attracts over 17,000 people each year and will be held on the last weekend of September. Held every year, the Kombi/Transporter swap meet Australian record attempt is one of the major highlights of the festival. The number of Kombis that arrive at the festival has steadily increased over the last five years, due to the support of many Kombi owners who have now made the festival an annual pilgrimage. Whilst the Kombi's are a highlight of this festival, there is much more to do over the two days. There is a huge range of market stalls, food stalls, local wine and produce tasting, live music, fashion parades, and a whole lot more for you to enjoy at this family friendly event.
Start Date:
05/10/2019
View more details
Paint pARTy Bean Bar Cafe Taree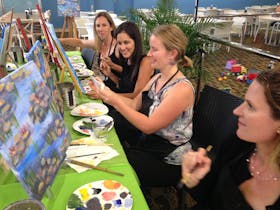 Paint, sip and have a great time at Bean Bar Cafe. You don't have to be good at art to take their fun class! It's a great experience to explore acrylic paint on canvas. Arrive at 5.45pm to get your seat, order a drink and get ready to have a good time. Painting begins at 6pm. They'll have a canvas, paint, brushes, even an apron waiting for you. Their artist will walk you through step-by-step so no experience required. Besides, it's Fun art, not Fine art. There will be a designated 20 minute break for drying time and to enjoy a meal together. Bookings are essential! Price includes a drink on arrival, your 2.5 hour paint class, canvas, and all paint supplies. Food and drinks sold separately.
Start Date:
13/07/2018
View more details
Taree Cup Weekend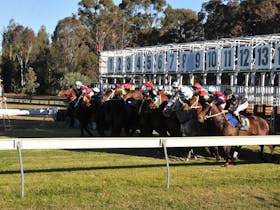 Taree Wingham Race Club's premium racing event is the Taree Cup which is held in August each year. The first day of the Cup weekend is the Hopkins / Livermore Cup on Friday 17 August, which features an eight race program with full food and beverage facilities, TAB, and bookmakers available in the race club's air conditioned Winning Post Grandstand - a great start to the weekend. Sunday 19 August is Taree Cup Day and sees all the club's facilities open with special race day packages available. Book in the grandstand overlooking the home straight and finishing post to make it a special day at the races, along with many other food and beverage facilities, grandstand seating, plenty of public parking for the big crowd, and buses running to the racecourse from selected locations. A feature of the day is the 'fashions on the field' competition for men and women with valuable prizes to be won on the day.
Start Date:
17/08/2019
View more details
The Hub Markets Taree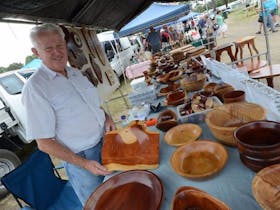 Held on the third Saturday of the month, this is Taree's biggest markets selling everything from books, crafts, candles, unique gifts, and plenty of locally grown produce.
Start Date:
15/06/2019
View more details
Tinonee Orchid Nursery Annual Open Day and Show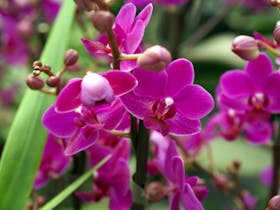 This years Tinonee Orchid Nursery Annual Open Day and Show will include it's usual line up of great guest speakers as well as workshops, live potting demonstrations and a lot of flowering plants. Free sausage sizzle will available and light meals and refreshments will be available for purchase.
Start Date:
14/07/2019
View more details