Southern Gold Coast
Live Music at Mountain Ridge Wines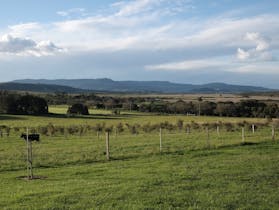 Enjoy lunch and live music in a picturesque setting at Mountain Ridge Wines on the first Sunday of each month 12 noon to 3pm while enjoying lunch, wine or nibbles at the restaurant. Bookings for lunch are strongly recommended. Check out Mountain Ridge Wines website and subscribe to the newsletter to be first to know who is playing. They invite a variety of South Coast bands, duos and solo artists - featuring a different band or musician each month. August 6 - Richard and The Lionhearts. September 3 - Kate Young. October 1 - Elle May. November 5 - Firefly. December 3 - King Dog and The Catz.
Start Date:
02/10/2016
View more details
BeachCare Currumbin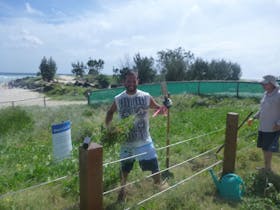 BeachCare is a community group facilitated by the Griffith Centre for Coastal Management in partnership with the City of Gold Coast. Activities such as planting native dune species, removing invasive weeds and collecting and auditing beach litter work towards stabilising the dunes, providing habitat for native species and protecting the coastline. BeachCare welcomes everyone to participate in their events; no experience necessary! It is compulsory to wear enclosed footwear to be able to participate. Please bring plenty of water, sunscreen and wear sun smart clothing. All equipment and refreshments are supplied. See you on the dunes!
Start Date:
05/03/2017
View more details
American Express Openair Cinemas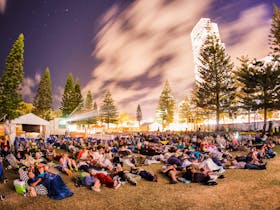 From October 19 to November 19, the festival vibes will be in full swing at American Express Openair Cinemas Gold Coast. Join them at Queen Elizabeth Park, Coolangatta for an array of alternative entertainment, live music and DJ performances before the latest and greatest feature films light up the big screen. The Salt Meats Cheese signature Truffle Pecorino Pasta; cheesy truffle pasta tossed through a wheel of truffle pecorino, finished with a grating of extra truffle pecorino, promises to be a firm favourite along with their arancini antipasti and wood-fired pizzas. Drinks are taken care of too with a dedicated cocktail bar serving a refreshing twist on summer, thanks to 4Pines and Giesen Wine. American Express cardholders are invited to relax and enjoy the full VIP Cinemas experience by purchasing a ticket for the American Express Invites Lounge. Card members will get their own lounger and get comfortable with a cushion and blanket as well as some tasty treats. American Express cardholders also enjoy 15 percent off selected tickets when purchasing with their cards as well as complimentary blanket hire.
Start Date:
19/10/2017
View more details
Pups On Sups 2017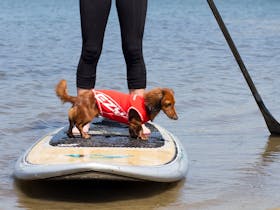 This is a brand new event for Surfing Queensland and they encourage everyone to come out for a fun day on the water with their furry friends. This two kilometre loop course is a great way to spend a day out with your best friend whilst also supporting the Animal Welfare League. This is one activity where the type of dog really doesn't matter, any breed, even any size.   The key is making your dog's first experience with the board a positive one so they will have a special guest there to help all new puppies and owners learn how to safely get their puppy on the SUP for an enjoyable day. Their Official Charity partner is the Animal Welfare League Queensland, and part of your registration fee will be donated to this worthy cause.
Start Date:
28/10/2017
View more details
Coolangatta Christmas Carols
Coolangatta's Queen Elizabeth Park will come alive with the spirit of Christmas, with free Coolangatta Christmas Carols presented by The Strand at Coolangatta. Sing along to your favourite Christmas carols and be entertained as skydiving Santa arrives in style! Browse the Coolangatta Christmas Markets and grab a bite from the food trucks open from 5pm to make the most of the afternoon. There will also be activities for the kids, and magical Christmas performances for the whole family to enjoy. Come along and enjoy this free, family-friendly event to celebrate Christmas in Coolangatta.
Start Date:
10/12/2017
View more details
Bleach* Festival
Bleach* Festival illuminates, reflects, beams, focuses and most importantly connects art, with community...go with them and challenge the conventional as they strive to change perceptions. As the signature annual multi-arts festival of the Gold Coast, they shine a light on their unique creativity and culture by presenting the city in a new way, to new audiences, both locally and internationally as they build towards the 2018 Commonwealth Games and beyond. Quintessentially Gold Coast, Bleach* Festival celebrates the city's best artists, welcomes renowned Australian and international collaborators and engages a broad audience through a range of accessible events. Utilising the Gold Coast's world famous natural landscapes as unconventional venues, Bleach* Festival is a platform for expression, curated to encourage community ownership and participation, provide legacy building capacity and ultimately play a role amongst the world's leading arts sector festivals.
Start Date:
29/03/2018
View more details
Gold Coast 2018 Commonwealth Games Beach Volleyball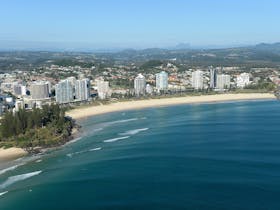 Sweat glistens and drips off the bodies of each player. Soft golden sand squeaks under their feet as they take off. A ball is spiked over the net with ferocity and accuracy. A physically and technically demanding sport, Beach Volleyball will make its Commonwealth Games debut on the Gold Coast. A team of two players will take the court in both the men's and women's competitions with only a net separating them from their opposition. Coolangatta Beachfront will provide the stage for epic encounters of high intensity serving, digging, setting, spiking and blocking. The grandstands will create a cauldron-like atmosphere in beautiful Queensland sunshine with the surf adding a refreshing backdrop. Get ready to experience close up the skill, speed and drama of a thrill-a-minute sport.
Start Date:
06/04/2018
View more details
Gold Coast 2018 Commonwealth Games Road Cycling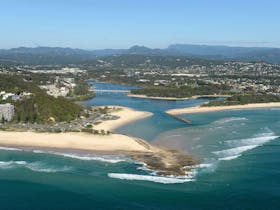 The beauty of a Gold Coast backdrop with the beast of a challenging road course. That is what awaits many of the world's best road cyclists as they ride for gold in both the Road Race and Individual Time Trial. Crowds will line the streets with flags, banners and cheers of support. Cyclists will whiz past with steely focus and determination. The Cycling Road Race will combine stamina with strategy as competitors plot when to make their breakaway from the pack. Will there be a telling early move or could it be a bunch sprint finish? The Cycling Individual Time Trial will combine stamina with speed as the cyclists race the clock. Who will time their race to perfection and record the fastest time? Starting and finishing at the stunning Currumbin Beachfront, spectators will have kilometre after kilometre of prime vantage points to witness the adrenaline charged racing.
Start Date:
10/04/2018
View more details
Gold Coast 2018 Commonwealth Games Diving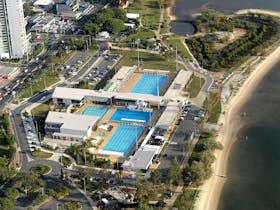 With a calm focus and poise, the diver concentrates. With a quiet anticipation and glare, the crowd awaits. Then take off. Balance, speed, grace, flexibility and precision are all packaged into seconds. The diver pierces the water with barely a ripple or splash. The crowd erupts into cheers and applause as the diver emerges from the pool. Now the tense wait as the judges consider the dive's degree of difficulty and execution. What will be their score? That is a glimpse of the aerobatic action set to absorb fans at the picturesque Gold Coast Aquatic Centre for the Diving competition. There will be individual competition for both men and women from the one metre springboard, three metre springboard and the daunting 10 metre platform. Adding another dynamic, pairs of divers will team up for the synchronised three metre springboard and 10 metre platform events.
Start Date:
11/04/2018
View more details
Cooly Classic Ocean Swim - World Series Swims 2018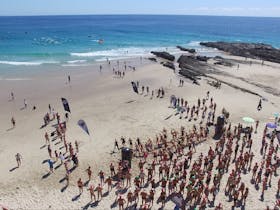 Join swimmers from all over Australia for the Gold Coast's premier ocean swim. The Cooly Classic offers competitors a rare opportunity to conquer three of Australia's most revered surf breaks – Snapper Rocks, Coolangatta and Kirra. If you're a seasoned swimmer or aspiring triathlete, the new 3 kilometre course is a great opportunity to test yourself beyond the typical open water distances. Events: Junior Giants (300 metres and 1000 metres), 1 kilometre, 2 kilometres, 3 kilometres.
Start Date:
13/05/2018
View more details
Cooly Rocks On™ Festival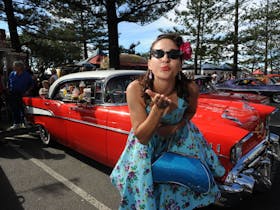 Cooly Rocks On™ is an annual celebration of everything 50s and 60s, bringing the colourful and vibrant beachside towns of Coolangatta and Tweed together for the ultimate party. Music, dancing, cars, nostalgia and good old-fashioned family fun are all on the program, right here in one of the best destinations in the world. Bring the family and enjoy loads of free entertainment and retro markets. Watch the Cooly Rocks On™ Street Parade, check out thousands of classic cars, see as many amazing artists as possible, dance every night away and have as much fun as you can possibly squeeze into your stay.
Start Date:
06/06/2018
View more details
SWELL Sculpture Festival
Experience monumental and memorable sculpture at the 16th annual SWELL Sculpture Festival. Set amongst the iconic landscape at Currumbin Beach, explore over 50 large built by distinguished local, national and international artists. For 10 days, wander and weave amongst distinctive, thought provoking, intriguing and whimsical sculpted works. This magnificent outdoor gallery presents the occasion to enjoy guided twilight walks and artist talks. Visitors can get in touch with their inner artist and participate in artist master classes and children's workshops. The SWELL experience extends with festivities such as performance art, music, yoga amongst the sculpture and culinary delights. This exhibition is free to the public and open all hours with a selection of sculptures revealing a new verve as they light up under the southern sky. SWELL inspires, amuses and uplifts and captures the hearts and minds of all who visit.
Start Date:
14/09/2018
View more details