Southern Gold Coast
Queensland Grommet Titles - Event 1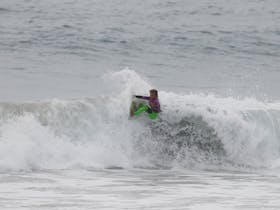 This the first event of the 2017 Queensland State Grommet Surfing Titles for the Under 14 and Under 12 Divisions. The Queensland State Grommet Surfing Titles is the exclusive qualification pathway for the State's elite junior competitors aiming for selection in Queensland's State Junior Surfing Team, set to compete at the Australian Junior Surfing Titles later in the year.
Start Date:
24/09/2016
View more details
Live Music at Mountain Ridge Wines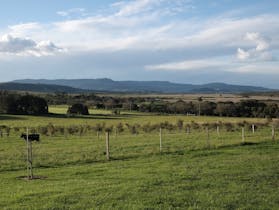 Enjoy lunch and live music in a picturesque setting at Mountain Ridge Wines on the first Sunday of each month 12 noon to 3pm while enjoying lunch, wine or nibbles at the restaurant. Check out their blog and subscribe to the newsletter to be first to know who is playing this month.
Start Date:
02/10/2016
View more details
Immerse SUP and Paddle Festival (Queensland State Titles)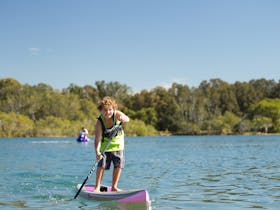 The 2017 Immerse SUP and Paddle Festival Community SUP Surfing will be activated on the Gold Coast and give all SUP Surfers the opportunity to surf alongside Queensland's elite SUP Surfers aiming to qualify to compete at the 2017 Australian SUP Titles.
Start Date:
22/07/2017
View more details
Swell Sculpture Festival
Experience monumental and memorable sculpture at the fifteenth Swell Sculpture Festival. Set amongst the iconic landscape at Currumbin Beach, explore over 50 large and small scale works built by distinguished local, national and international artists. For 10 days, wander and weave amongst distinctive, thought provoking, intriguing and whimsical sculpted works. This magnificent outdoor gallery presents the occasion to enjoy guided twilight walks and artist talks. Visitors can take pleasure viewing small sculptures at the Swell Smalls Gallery or participate in artist master classes and children's workshops. The Swell experience extends with festivities such as performance art, music, yoga amongst the sculpture and culinary delights. This exhibition is free to the public and open all hours with a selection of sculptures revealing a new verve as they light up under the southern sky. Swell inspires, amuses and uplifts and captures the hearts and minds of all who visit.
Start Date:
08/09/2017
View more details
Griffith Opera on the Beach - Aida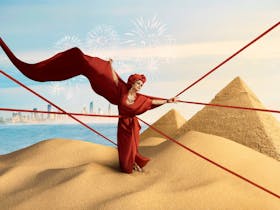 A royal love triangle, a fight for freedom and the famous 'Triumphal March' will light up the sky when Aida comes to the beach. Fancy a short break on the Gold Coast? Plan it for September and combine days relaxing with a spectacular outdoor production of Aida on Coolangatta Beach in the evening. It's a night at the theatre, re-imagined for the kind of evening where you couldn't bear to go inside. A huge cast and orchestra perform Verdi's famous music in a new production featuring fireworks of the vocal and exploding kind, colourful costumes and local surf life savers parading past you on the sand.
Start Date:
21/09/2017
View more details
Coates Hire Coolangatta Gold
The Coates Hire Coolangatta Gold is the ultimate ironman challenge held on the Gold Coast. The event is open to the public and consists of a 32.4 kilometre Short Course and a 41.5 kilometre Long Course that can be taken on individually or as a team. This multi-disciplinary course combines swimming, running, board paddling and surf skiing, presented annually by Surf Life Saving Australia.
Start Date:
07/10/2017
View more details
Buskers by the Creek
Awarded "Queensland's Best New Event" and "Gold Coast's Music Event of the Year"! In a celebration of the old-fashioned art of busking, over 300 performers will showcase their talents along the banks of Currumbin Creek. People of all ages will soak up the atmosphere, vibe and sunshine and immerse themselves in the melting pot of creativity, culture and surprise. A variety of singer/songwriters, artistic fire, magicians, bands and dancers will be scheduled into the program, with a full schedule of acts announced closer to the event date! Known for Australian and World First attempts! Throughout the park grounds, international festival fare will be available to tempt all tastebuds and artisans will be showcasing their creative wares and talents. Come and 'Discover the Undiscovered'! It's a weekend of magic and marvel not to be missed!
Start Date:
14/10/2017
View more details
Gold Coast 2018 Commonwealth Games Beach Volleyball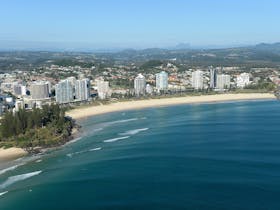 Sweat glistens and drips off the bodies of each player. Soft golden sand squeaks under their feet as they take off. A ball is spiked over the net with ferocity and accuracy. A physically and technically demanding sport, Beach Volleyball will make its Commonwealth Games debut on the Gold Coast. A team of two players will take the court in both the men's and women's competitions with only a net separating them from their opposition. Coolangatta Beachfront will provide the stage for epic encounters of high intensity serving, digging, setting, spiking and blocking. The grandstands will create a cauldron-like atmosphere in beautiful Queensland sunshine with the surf adding a refreshing backdrop. Get ready to experience close up the skill, speed and drama of a thrill-a-minute sport.
Start Date:
06/04/2018
View more details
Gold Coast 2018 Commonwealth Games Road Cycling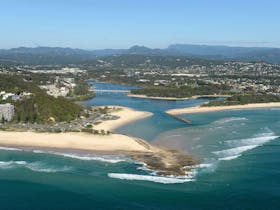 The beauty of a Gold Coast backdrop with the beast of a challenging road course. That is what awaits many of the world's best road cyclists as they ride for gold in both the Road Race and Individual Time Trial. Crowds will line the streets with flags, banners and cheers of support. Cyclists will whiz past with steely focus and determination. The Cycling Road Race will combine stamina with strategy as competitors plot when to make their breakaway from the pack. Will there be a telling early move or could it be a bunch sprint finish? The Cycling Individual Time Trial will combine stamina with speed as the cyclists race the clock. Who will time their race to perfection and record the fastest time? Starting and finishing at the stunning Currumbin Beachfront, spectators will have kilometre after kilometre of prime vantage points to witness the adrenaline charged racing.
Start Date:
10/04/2018
View more details
Gold Coast 2018 Commonwealth Games Diving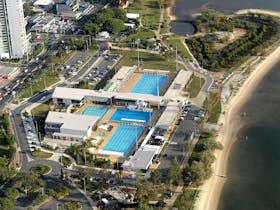 With a calm focus and poise, the diver concentrates. With a quiet anticipation and glare, the crowd awaits. Then take off. Balance, speed, grace, flexibility and precision are all packaged into seconds. The diver pierces the water with barely a ripple or splash. The crowd erupts into cheers and applause as the diver emerges from the pool. Now the tense wait as the judges consider the dive's degree of difficulty and execution. What will be their score? That is a glimpse of the aerobatic action set to absorb fans at the picturesque Gold Coast Aquatic Centre for the Diving competition. There will be individual competition for both men and women from the one metre springboard, three metre springboard and the daunting 10 metre platform. Adding another dynamic, pairs of divers will team up for the synchronised three metre springboard and 10 metre platform events.
Start Date:
11/04/2018
View more details