The Camden Haven
Camden Haven Show
The Camden Haven Show holds a special place in the hearts of the people of Kendall and the surrounding districts, having maintained its rural charm and agricultural focus. Events and exhibitions include: horses and cattle, poultry, flowers, fruit and vegetables, baby show, stalls, dog show, showgirls, art exhibition, chainsaw racers, photography, tractor display, Camden Haven Concert Band, rides and amusements and wood chopping.
View more details
Eat. Sip. Paint! at Oasis By The River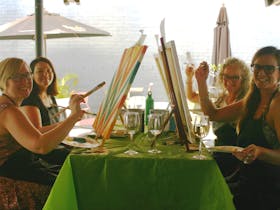 Join Paint The Town and experience the new activity in Camden Haven - Eat. Sip. Paint! An artist will walk you through a step-by-step painting in a relaxed atmosphere as you enjoy a cocktail and some nibbles. No experience necessary! All paint supplies and canvas included. Oasis By The River has a wonderful selection of food and drinks available for purchase during the event. Get your seat at 11.45am and painting begins at 12pm. You will have a few breaks to use the bathroom, order food, and top those cocktails up of course. Painting ends around 2:30pm. Bookings through the website.
Start Date:
07/02/2016
View more details
Hide and Seek Cinema (Lake Cathie)
Hide and Seek Cinema is a unique new concept in family entertainment that offers a fun-filled interactive evening of adventure, games, mystery and intrigue that is suitable for the young and young at heart. How does it work? They hide the cinema and You seek it out! Buried in your ticket sits the first clue and the exact location of the X that marks the starting spot for the evening. Then it's up to you to de-code all the clues on the night to find them. Keep an eye out for surprises along the way as the flavour of the night will quickly become apparent. When you find their Top Secret cinema, you will uncover an interactive world set in the theme of the mystery movie. Note: Some walking will be required - however if you require assistance, help will be on hand to make sure you make it to the cinema safe and sound. For further information please see the web site.
Start Date:
13/05/2017
View more details
HOKA ONE ONE Trail Running Series: Race One
The HOKA ONE ONE Trail Running Series takes your running off-road with a series of popular races at breath-taking wilderness locations within a one hour drive from Melbourne. Each of the five events in The Series includes a short, medium and long course race that gives you plenty of carefree, smile-inducing running through some magnificent natural landscapes. You will breathe in plenty of fresh air and grin from ear to ear as you run through valleys lined with tree ferns, weave through towering gum trees and sweep along flowing trails beside rivers, creeks, beaches and lookouts. Choice of distances. Great courses. Beautiful settings. Social atmosphere. Pure fun. Race One: Sunday 5 June – Studley Park – five / eleven / fifteen kilometres. Race Two: Sunday 10 July – North-east Melbourne – six / twelve / seventeen kilometres. Race Three: Sunday 7 August – Silvan, Dandenong Ranges – seven / fifteen / twenty kilometres. Race Four: Sunday 4 September – Anglesea – eight / fifteen / twentry-three kilometres. Night Race Five: Friday 23 September – Studley Park – five / eleven / fifteen kilometres.
Start Date:
18/06/2017
View more details
Johns River Country Markets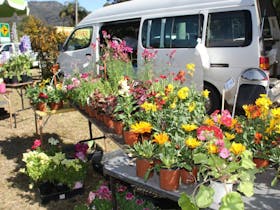 Come along to the grounds of Johns River Community Hall for the monthly markets. They are held on the second Saturday of the month. On display you will find a large range of stalls and old wares with home made items and excellent food, including the legendary Devonshire Tea or Coffee provided by the Trustees of the Community Hall. Easy level access and ample parking. All proceeds from food sales at the markets go back into the hall and facilities. They look forward to seeing you at the markets.
Start Date:
13/08/2016
View more details
Kendall National Violin Competition Finals Weekend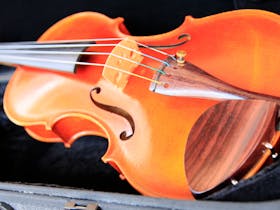 If you are a lover of the violin and classical music make sure you are at the Kendall School of Arts in September when you will be spoilt for choice with both the Kendall National Violin Competition Finals on the Saturday and a Celebration Concert on the Sunday. The finals will feature the best young violinists in Australia. On Saturday, the Kendall School of Arts will host the Kendall Violin Competition Final Round. The following day a Celebratory Concert will be held, featuring Live Music Sydney, special guests and the winner of the Kendall National Violin Competition. The Kendall National Violin Competition, now in its second decade, has established itself as a major event for young violinists in Australia. Past finalists and winners of the Competition have forged impressive international careers and the Competition is proud to have helped these talented artists on their way. Four of Australia's most promising young violinists will compete for a place in the final round of this important national competition. Information, booking details and biographies on the Finalists can be found on the website. Bookings are strongly encouraged.
Start Date:
16/09/2017
View more details
King of the Mountain
The King of the Mountain is a five kilometre 'fun' run to the summit of Laurieton's North Brother Mountain. The event, conducted by the Camden Haven Surf Club, continues to grow and attracts runners from around the state. The course follows the road to the summit and climbs 450 metres over the five kilometre duration. The event is open to all levels of fitness and teams are welcome. Prizes are awarded for King and Queen of the Mountain, junior entries, team entries and participation.
Start Date:
20/08/2017
View more details
Painting By The Beach at The Fat Fish Beachfront Bistro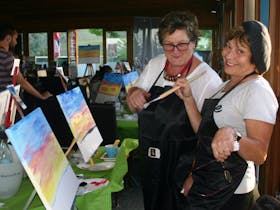 Join them to Eat, Sip, and Paint! No experience necessary. Arrive at 2:45pm to get your seat, order a drink and get ready to have a good time. Painting begins at 3pm. An artist will walk you through a step-by-step painting so no experience necessary. You get to relax, sip on your favourite cocktail and enjoy some nibbles while you get your paint on. Who knew Sunday could be so fun?! So grab your friends and join them to create your own unique masterpiece. Beginners welcomed! Your 2.5 hour paint class (includes breaks!), a drink on arrival, nibbles, paint supplies, and a canvas to take home is included. Fat Fish has a wide selection of food and drinks available to purchase before and during the event too so come hungry!
Start Date:
26/03/2017
View more details
Riverwalk Markets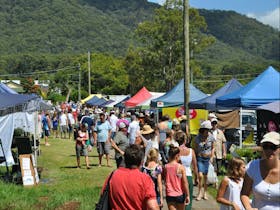 Held on the third Sunday of every month at Bruce Porter Reserve, on the banks of the beautiful Camden Haven River at Laurieton, the Riverwalk Markets showcase local produce, gourmet foods, arts and craft, plants, and bric-a-brac. Stall holders come from as far as Newcastle and the Hunter Valley, such is the popularity of the markets. Pony rides and a jumping castle are regular features, as well as live music.
Start Date:
18/12/2016
View more details
Slice of Haven Festival
The Slice of Haven Food, Wine and Beer Festival has become a leading gourmet lifestyle event on the Mid North Coast social calendar, attracting tens of thousands of people to the Camden Haven region. Each year organisers of the event challenge stallholders to use locally-grown key ingredients, embrace the event's vibe of indulgence and get creatively quirky to meet the yearly theme. In 2017 Slice of Haven will 'rock your tastebuds' with rebellious flavours. Get out the biker leathers and be ready to rock-out. Entry is by donation which goes towards the Camden Haven SES, Camden Haven Surf Life Saving Club and Million Metres for MND.
Start Date:
21/05/2017
View more details