The Camden Haven
Camden Haven Show
*** Latest event details are yet to be confirmed *** The Camden Haven Show holds a special place in the hearts of the people of Kendall and the surrounding districts, having maintained its rural charm and agricultural focus. Events and exhibitions include: horses and cattle, poultry, flowers, fruit and vegetables, baby show, stalls, dog show, showgirls, art exhibition, chainsaw racers, photography, tractor display, Camden Haven Concert Band, rides and amusements and wood chopping.
Start Date:
13/10/2018
View more details
Eat. Sip. Paint! at Oasis By The River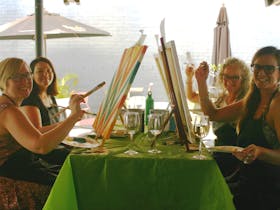 Join Paint Your Town and experience the new activity in Camden Haven - Eat. Sip. Paint! An artist will walk you through a step-by-step painting in a relaxed atmosphere as you enjoy a cocktail and some nibbles. No experience necessary! All paint supplies and canvas included. Oasis By The River has a wonderful selection of food and drinks available for purchase during the event. Get your seat at 11.45am and painting begins at 12pm. You will have a few breaks to use the bathroom, order food, and top those cocktails up of course. Painting ends around 2:30pm. Bookings through the website.
Start Date:
28/04/2018
View more details
Kendall National Violin Competition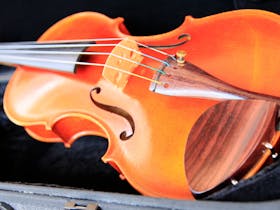 *** Latest event details are yet to be confirmed *** One of the most exciting events on the Australian music calendar is the annual Kendall National Violin Competition. The competition's history dates from 1999 when renowned Australian luthier Graham Caldersmith made the generous offer to donate a concert violin each year as a prize. Young violinists (maximum age 23 on 1 January) who are citizens or residents of Australia are invited to compete for this fine instrument which is made from Australian timbers. Many of the approximately 150 young violinists who have competed to date, particularly past winners and finalists, have gone on to major achievements in Australia and overseas. The competition is administered by a small committee of volunteers under the Artistic Directorship of Violinist Goetz Richter, Associate Professor of Violin at the Conservatorium of Sydney. Since 2004, semi-finals have been held as public performances in Sydney. The final is always held in Kendall, the home of the competition.
Start Date:
22/02/2019
View more details
King of the Mountain
*** Latest event details are yet to be confirmed *** The King of the Mountain is a five kilometre 'fun' run to the summit of Laurieton's North Brother Mountain. The event, conducted by the Camden Haven Surf Club, continues to grow and attracts runners from around the state. The course follows the road to the summit and climbs 450 metres over the five kilometre duration. The event is open to all levels of fitness and teams are welcome. Prizes are awarded for King and Queen of the Mountain, junior entries, team entries and participation.
Start Date:
19/08/2018
View more details
Laurieton Riverwalk Market
Enjoy a bite to eat by the riverside, or get your kitchen in order with a range of fresh produce and gourmet foods to take home. With an extensive range of toys, clothes, fashion, plants, candles, perfumes, fishing gear, furniture and so much more you will love your day out at the Market. The Laurieton Riverwalk Markets are held every third Sunday of each month with an extra Market in January. They are held at the Bruce Porter Reserve in Laurieton. Tourists and locals alike have a great day at the Laurieton Riverwalk Markets. There is something for everyone! The Camden Haven Chamber has conducted the Laurieton Riverwalk Markets for over 15 years.
Start Date:
19/11/2017
View more details
Port Macquarie MTB Festival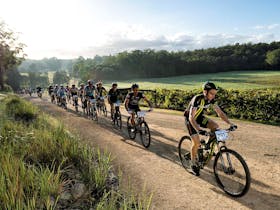 Ride Port and challenge yourself! The team at 'Trail Terra' present the inaugural Port MTB Festival - a new series of events for mountainbike competitors, featuring an XCO at the Urban MTB Park on the Saturday, and an XCM event at Bago Vineyard on the Sunday. Competitions over a variety of distances and age groups will be run through both purpose built single track and rough, rocky MTB style fire roads atop the stunning Bago Bluff. Challenging and inspiring. Bring your riding buddies and your family and have a great weekend in the beautiful Port Macquarie Region.
Start Date:
18/08/2018
View more details
Slice of Haven Festival
The Slice of Haven Food, Wine and Beer Festival has become a leading gourmet lifestyle event on the Mid North Coast social calendar, attracting tens of thousands of people to the Camden Haven region. Each year organisers of the event challenge stallholders to use locally-grown key ingredients, embrace the event's vibe of indulgence and get creatively quirky to meet the yearly theme. Entry is by donation which goes towards the Camden Haven SES, Camden Haven Surf Life Saving Club and volunteer organisations who help make Slice of Haven happen. Please: No pets
Start Date:
27/05/2018
View more details