The Camden Haven
Camden Haven Show
The Camden Haven Show holds a special place in the hearts of the people of Kendall and the surrounding districts, having maintained its rural charm and agricultural focus. Events and exhibitions include: horses and cattle, poultry, flowers, fruit and vegetables, baby show, stalls, dog show, showgirls, art exhibition, chainsaw racers, photography, tractor display, Camden Haven Concert Band, rides and amusements and wood chopping.
View more details
Eat. Sip. Paint! at Oasis By The River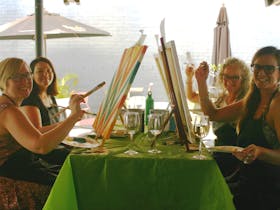 Join Paint The Town and experience the new activity in Camden Haven - Eat. Sip. Paint! An artist will walk you through a step-by-step painting in a relaxed atmosphere as you enjoy a cocktail and some nibbles. No experience necessary! All paint supplies and canvas included. Oasis By The River has a wonderful selection of food and drinks available for purchase during the event. Get your seat at 11.45am and painting begins at 12pm. You will have a few breaks to use the bathroom, order food, and top those cocktails up of course. Painting ends around 2:30pm. Bookings through the website.
Start Date:
07/02/2016
View more details
Hannam Vale Open Gardens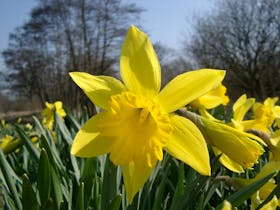 Hannam Vale Open Garden Day will have a collection of private country gardens open for just six hours from 10am to 4pm on Sunday October 22 for you to visit at your leisure. Nestled in the Stewarts River valley in the heart of The Three Brother region, Hannam Vale offers you a delightful day from cottage gardens to woodland gardens. On the recreation reserve in the heart of Hannam Vale you can collect your program and enjoy our cafe for a coffee, tea and heaps of yummy homemade cakes and slices that will get your blood sugar levels up for a day of nostalgic wanderings. Come back to the reserve and enjoy a satisfying luncheon whether its Barbecue, sandwiches, soups or more. Then browse their market stalls for a great variety of quality plants, preserves, bric a brac and much more. They are situated approximately half way between Port Macquarie and Taree. So visitors making their way to Hannam Vale should exit the Highway at the Hannam Vale road signs and follow the signage for approximately 11 kilometres.
Start Date:
22/10/2017
View more details
King of the Mountain
*** Latest event details are yet to be confirmed *** The King of the Mountain is a five kilometre 'fun' run to the summit of Laurieton's North Brother Mountain. The event, conducted by the Camden Haven Surf Club, continues to grow and attracts runners from around the state. The course follows the road to the summit and climbs 450 metres over the five kilometre duration. The event is open to all levels of fitness and teams are welcome. Prizes are awarded for King and Queen of the Mountain, junior entries, team entries and participation.
Start Date:
19/08/2018
View more details
Riverwalk Markets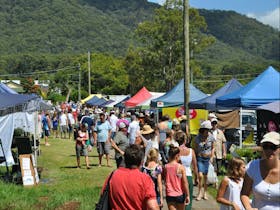 Held on the third Sunday of every month at Bruce Porter Reserve, on the banks of the beautiful Camden Haven River at Laurieton, the Riverwalk Markets showcase local produce, gourmet foods, arts and craft, plants, and bric-a-brac. Stall holders come from as far as Newcastle and the Hunter Valley, such is the popularity of the markets. Pony rides and a jumping castle are regular features, as well as live music.
Start Date:
18/12/2016
View more details
Slice of Haven Festival
The Slice of Haven Food, Wine and Beer Festival has become a leading gourmet lifestyle event on the Mid North Coast social calendar, attracting tens of thousands of people to the Camden Haven region. Each year organisers of the event challenge stallholders to use locally-grown key ingredients, embrace the event's vibe of indulgence and get creatively quirky to meet the yearly theme. In 2017 Slice of Haven will 'rock your tastebuds' with rebellious flavours. Get out the biker leathers and be ready to rock-out. Entry is by donation which goes towards the Camden Haven SES, Camden Haven Surf Life Saving Club and Million Metres for MND.
Start Date:
19/05/2018
View more details